I haven't done one of these in a while, and I have to say that I was looking back at old pictures of
Darrian
and a flood of feelings hit me. So this will be mushy. Its amazing to think of how much this little guy has brought so much
fulfillment
to my life. I know this sounds like stuff you read in a book, but really I didn't know I could love someone so much. I never ever felt this level of love.

I remember seeing this picture and thinking how much he looks like Daddy. I loved him then, he used to kick me so hard and I remember even then if a song came on the radio he would kick and move to it. Even then he loved music.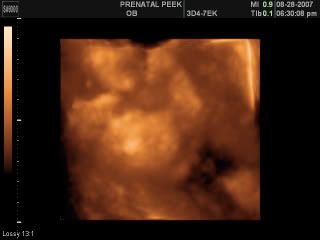 Then I met him and I was amazed at how alert he was (esp. being 6 weeks early) and how fast he fit into our lives. I remember feeling like he always belonged here with us.
Just when I thought he couldn't melt my heart more, he did this. That smile, it really is the money shot. I remember being so happy to capture this on camera, and then you did it over and over again. Even today I smile when you smile, it just does that to me.
He really does have the sweetest face I have ever seen..
He grew so fast, crawling, standing, walking.. I really missed the baby rolls on the legs and arms, and the chub in the face.
I think I have been sad to see him grow, I miss the baby days. I also though cherish the days I have right this moment. The conversations, that amazing smile, the request to snuggle, and the willingness to try new things. I know that statement that now that I am a mother my heart lives outside my body is so true, and what a wonderful gift it has been.