A last look...
So today we had a follow up 3D ultrasound, our last one before expected arrival date. Darrian was about the same, not wanting his picture taken. You can for sure tell that some of this weight is going towards him! He is getting big, which is good. Heartbeat was strong too.
I have a couple pictures to post here, the rest really were not that great but I will take another look. It is odd to see some things in the ultrasounds from Keith and I, to me he looks a lot like Keith in the pictures. Of course we could be wrong but for sure I think he has daddy's nose.. Keith is very excited to have a mini me so we will see how it all turns out. Looks like he has some chubby cheeks too!
Where he really looks like daddy...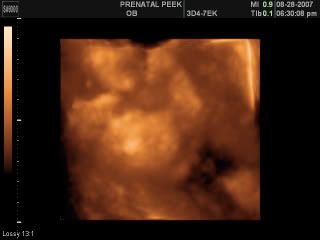 32 weeks ... only 55 days left (if he is on time) !